The SHOTPROS project
The European street patrol police officer's field of action is in a constant state of change and new challenges are emerging all the time. The number of incidents where police officers are first responders in critical situations with severe threat circumstances has drastically increased. Being the first responder in high-risk situations never faced before, creates a highly stressful situation.
The SHOTPROS project aims to investigate the influence of psychological and contextual human factors (HFs) on the behaviour of decision-making and acting (DMA) of police officers under stress and in high-risk operational situations in order to design better training for police officers to improve DMA Performance. SHOTPROS will develop a Virtual Reality (VR) solution to experimentally assess the degree to which these factors influence DMA behaviour.
What we do 
Subsequently the project will develop a HF-rooted training curriculum and a corresponding VR training solution to provide a comprehensive framework for practical training for decision-making and acting under stress and in high-risk (DMA-SR) situations in order to improve performance.The training will increase DMA-SR performance which will lead to better and more correct decisions (from several perspectives, e.g. law, ethic, etc.), to keep the guidance in threatened situations, to minimise use of force occurrences, and accordingly, to maximise the avoidance of casualties and collateral damage, such as panic and cascading or escalating effects.
For SHOTPROS, we identified 5 distinctive and forward-looking objectives. All objectives will strongly support the idea of the European Security Model and supports the internal security strategy for the European Union.

Learn more about the objectives and the expected outcomes of SHOTPROS: 
Elements and Structure of Workpackages
The work plan of SHOTPROS is divided into 9 distinct work packages, altogether lasting 36 months. Since the work is highly collaborative, several partners will be involved in each of the work packages.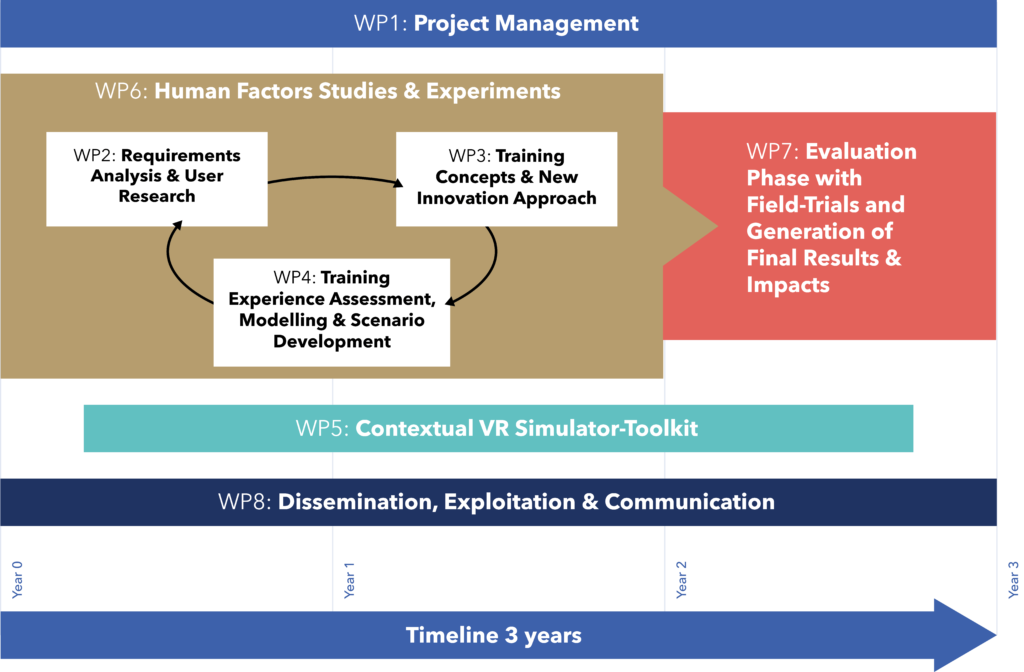 Learn more about the work packages of SHOTPROS: 
SHOTPROS will adopt a strong human and stakeholder centred research approach building on the psychology, criminology, Human Computer Technology and VR Technology expertise within the consortium. As an integral basis of the project, USE and AIT with their strong background on user-centred-design as well as KUL with their expertise in requirements for criminology contexts, will collect user requirements from the LEA stakeholders (e.g. trainees, trainer, police academy leads, decision-makers for training programs, etc) on several perspectives (e.g. ethic, gender, safety, legal, privacy, business, etc.).
End-User in the centre of research 
In this process the LEA's rich practical knowledge on (potentially) high risk situations and resulting decisions from their officers together with VESTA's strong background in police training facilities and processes will be transferred into definitions and requirements for the streamlined scenario building process in the later stages of the project. With respect to DMA models VUA will utilize their outstanding knowledge and overview on existing modelling approaches and together with KUL and their expertise on human factors in criminology they will derive the innovative conceptual model of DMA behaviour including different contextual and human factors that influence perception, decision-making and acting in potentially threatening situations close collaboration with personnel from all participating LEA's.